Meet Dee Ganley  CPDT-KSA, CBCC-KA, CABC , CGC Evaluator  plus  CCAP 2
I like to think I am one of those people who find joy and solace being with dogs. I am happiest in their company and proud to have earned their trust. I have experienced the deeply civilized "conversations" that happen between well trained dogs and their handlers. I know that I am a better person – more just, more open-minded, much kinder and certainly happier – because of the friendship of my four-footed friends.
Dee's approach to all behavioral problems is to help handlers identify how to apply (or, if needed withhold) their dog's reinforcements so the dog learns self-control. This is done through management, and training programs that shape good choices & prevent bad choices.
Dee specializes in "difficult dogs" and has been very successful as both the behavior consultant referred to by many veterinarian's and other trainers from all over New England and as a private consultant/trainer for unruly and aggressive dogs. She is author of "Changing People Changing Dogs." positive solutions for working with dogs.
She is available for workshops and seminars throughout New England and uses a 70+-page training and management manual "How To Create A Happy, Eager, & Fun Relationship With Your Dog", or "Changing Fear to Joy" which are used in her classes and private consultations. These resources are available for sale.
Dee is available for private consultations for behavioral issues or just normal puppy or adolescent skill work – at your home or Dee's home in East Andover or other training facilities around the area. For instance, on Thursdays at SAVES 63 Evans Drive Lebanon NH, The Outing Club, 10 Cougar Court, New London NH and at No Monkey Business Dog Training 141 Old Turnpike Rod Concord NH. Please contact Dee or click here for more details about dog training with Dee.
Thank you Dee!
Hi Dee, I know you haven't heard from me for a long time. I just wanted to thank you for all of your help, helping us help Arrow. She is turning into such a wonderful dog. She can do many tricks, loves playing frisby. and swimming. We can go hiking with her off leash and she stays near and returns when called. She continues to go to daycare 1X a week to play with other dogs. She goes to her "safe space" whenever we have people over and does really well with that. She will bark when the doorbell rings, a knock, but appropriately so. It has been much hard work and consistency, but Bob and I are enjoying the results. Arrow appears to be a much calmer and more secure dog. We appreciate all of the support you gave us. I do not hesitate to recommend you to people that I see struggling with a dog. ~ Sue and Bob
Best Professional Dog Behavior Book of 2008 – Runner-Up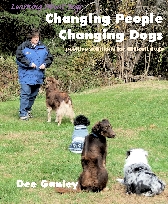 Now Available! Dee Ganley's book on Aggressive Dog Behavior, Changing People, Changing Dogs (Revised April 2008). Learn how to address canine fear and aggressive dog behavior with simple exercises. CPCD will have you and your dog on the way to a happy relationship. Click to read more and to purchase.