About Dee
Teaching and Learning
Through Cooperation and Kindness.
Every Interaction is a Teaching/Learning Opportunity.
My work is dedicated to all the dogs I have worked with who are forever in my heart showing us all – if we can listen – how to live joyfully in the moment.
Diana Ganley, CPDT-KSA, CBCC-KA, CABC, CCUI's
CCPDT, IAABC  and Certified CONTROL UNLEASHED (Leslie McDevitt)
AKC  Evaluator for CGC and Tricks
CDE (Certified Dognition Evaluator)
CAP Evaluator (Caring Animal Partners)
CAP2 Clicker Competency (Kay Laurence Clicker)
ABC and CATCH Mentor (Animal Behavior College &  Canine Trainers Academy)
Master WIGS instructor Wag it Games – www.wagitgames.com
The training and behavioral work I do with the public and shelter community is about how to achieve the two goals: Getting behavior we want and getting rid of behavior we don't want, humanely and while having fun! I teach positive reinforcement, and I place very strong emphasis on managing a dog's environment for safety.
"Loving" our dogs doesn't create trustworthy companions. Commitment by a dog to his people is the result of humane training and diligent management. It happens when we wholly accept the responsibility to lead, but not to dominate. Humane leadership allows the dog's capacity to think and feel to be used for learning rather than defence and avoidance.
Over the years, the dogs and people I have helped have returned the favor 100 fold. They have taught me that learning and teaching is about "calm attentiveness". Fixing problems starts with paying attention quietly, openly and always positively. Learning this, I have become much more relaxed, calm and decisive in my interactions with dogs. You get attention when you give attention. Working effectively with dogs means communication starts with the calm, attentive watcher. Wonderfully, this way of listening with your eyes as well as your ears, becomes a way of life and spills over into everything.
For 35+ years I've taught training classes and advised individuals on how to create positive partnership with their dogs. In the mid-1990's I began sharing positive reinforcement training with the deeply committed people working in the shelter world. From 1998-2004, I was the Training and Behavior Manager for the Upper Valley Humane Society in Enfield, NH. My single most important goal was to create a shelter and training program that teaches the dogs self-control skills. I worked with the staff, volunteers and the public, helping them use positive reinforcement to change rude dogs into agreeable family members. Shelter dogs have shown me that self-control skills are the foundation of adoption success. They literally mean the difference between life and death.
Dee Ganley shares her 35+ years experience modifying aggressive dog behavior in her book "
Changing People, Changing Dogs: Positive Solutions for Difficult Dogs
". Dee's approach to aggressive dog behavior is to help handlers teach their dog self-control by effectively applying (or, if needed, withholding) what their dog wants. This is done through management and positive reinforcement dog training programs that shape and reward good dog behavior while managing the dog's environment to prevent reactive or unruly behavior.
ORDER YOUR BOOK!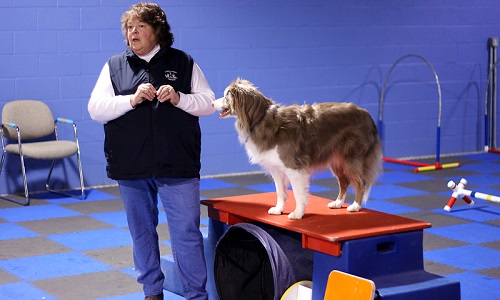 Today, I am back in private practice, which now includes travelling to many wonderful places helping shelters, rescues, or just folks who want to learn my practical, humane techniques to change our dogs and ourselves into friends and partners for life.  Dee's private practice specializes in retraining unruly dogs with behavioral issues. She shares her hands-on experience as a behavior consultant giving workshops and lectures worldwide for the general public, trainers and shelter staff, for evaluation of dogs for adoption placement and as a private consultant offering dog training services for dogs and handlers who need help.  She is highly recommended by many veterinarians all over New England.
Certainly what I share with you comes from many fine authors and trainers and I deeply grateful for their insights. But it is the dogs who have shown me their astonishing capacity to change when we are wise enough to reinforce them for trying and forgiving us for our impatience and lack of good knowledge about who You are and what You are trying to tell us. We humans need to learn to talk dog! Let me help you and your four footed friend.
Structured exercise is an effective and fun addition to Dee's approach to help owners learn how to change their rude and/or reactive/conflicted dog's behavior. Dee offers a variety of workshops and classes and loves doing the "nosework" and 'Agility for Fun' where dogs learn to use their talented noses and abilities to locate hidden food or scent and to navigate jumps tunnels and obstacles. Getting to use their natural abilities helps them achieve the self control they need for every day life. Dee doesn't limit her animal clients to dogs – she also works with cats, horses and a number of pot bellied pigs for good measure.
Nancy Lyon - My Very Special Friend and Colleague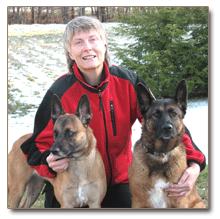 No introduction about me would be complete without special mention of my friend, co-author and colleague, Nancy Lyon — co-author of the following dog training manuals:
Changing Fear to Joy
Happy Eager Fun Relationship with Your Dog
Teaching Self Control Skills to Shelter Dogs
A SAR (Search and Rescue) dog handler, Nancy was president and operational leader of the New England K-9 Search and Rescue Organization. Visit http://www.nek9sar.org for more information.
New Hampshire Search and Rescue Extraordinary Service Award was given to Nancy for her service.  It is an award given by the New Hampshire Outdoor Council to honor individuals who have given Extraordinary Service to Backcountry Search and Rescue in New Hampshire.
I could tell you the story of my life through the dogs I have loved. I could tell you the story of the losses in my life through their deaths. Dogs come into our lives to teach us about love and loyalty. They depart to teach us about loss. We try to replace them, but never quite succeed. A new dog never replaces an old dog; it merely expands the heart. If you have loved many dogs, your heart is very big.
Erica Jong – from an essay entitled "A Woman's Best Friend"