About Dee
About Dee Ganley
Dee Ganley CPDT-KSA, CBCC-KA, CABC, CAP2, skilled dog trainer, handler, behaviorist and author, shares her 35+ years experience modifying aggressive dog behavior in her book "Changing People, Changing Dogs: Positive Solutions for Difficult Dogs". Dee's approach to aggressive dog behavior is to help handlers teach their dog self-control by effectively applying (or, if needed, withholding) what their dog wants. This is done through management and positive reinforcement dog training programs that shape and reward good dog behavior while managing the dog's environment to prevent reactive or unruly behavior.
Dee applied these techniques for the past 35+ years working with dogs day in and day out also during her years evaluating and developing retraining programs for shelter dogs at risk of being euthanized for their inappropriate behaviors as the training behavioral Manager for UVHS 1998-2004 and then for many rescues and shelters even today.
Dee's private practice specializes in retraining unruly dogs with behavioral issues. She shares her hands-on experience as a behavior consultant giving workshops and lectures worldwide for the general public, trainers and shelter staff, for evaluation of dogs for adoption placement and as a private consultant offering dog training services for dogs and handlers who need help, she is highly recommended by many Veterinarians all over New England.
Structured exercise is an effective and fun addition to Dee's approach to help owners learn how to change their rude and/or reactive/conflicted dog's behavior. Dee offers a variety of
workshops and classes and loves doing the "nosework" and Agility for Fun where the dogs learn to use their talented noses and abilities to locate hidden food or scent and to navigate jumps tunnels and obstacles.. Getting to use their natural abilities helps them achieve the self control they need for every day life. Dee doesn't limit her animal clients to dogs – she also works with cats, horses and a number of pot bellied pigs for good measure.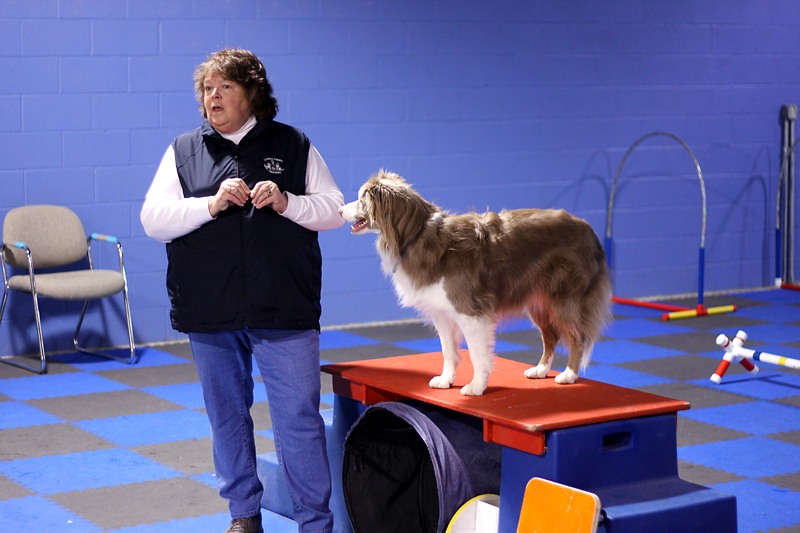 More Background on Dee's Philosophy
The philosophy behind "relaxed down, quiet entrance and exit, loose leash walking, sit calmly for greeting" – all teach the dogs that self-control is the only way to get what he wants. A dog with self-control is a free dog! When reinforced positively for self-control or given time outs, the dog/puppy learns that he can be with you by being quiet & calm. That watching and waiting is the only way to get reinforced. He learns that he doesn't always have to act to get what he wants. It is the only way to teach your dog that he can comfortably and safely wait next to you while exciting things go on around him. Without self-control – calm, watchfulness- a dog can't learn and can't exercise judgment. Neither can we.
I watched a person once work with a dog who was jumping up grabbing her behind the arms and even her breasts & taking her arm or others in her mouth roughly, an adolescent at its worst.
This person had been working with this dog for 2+ yrs with no significant change in behavior, although the dog had great OB skills SIT, Down, drop it & complied right away but had No Self control and I thought – if only she (the handler) would just limit the dogs possibilities (step on the lead would be a good place to start) and then reinforce the dog for the quiet times (which the dog did finally after after 20 minutes of them doing sit down grab the leash or handler shoving the lead into the dogs mouth) then this dog would learn quickly that Lying calmly will eventually get it what it wants, Self-control works and the human/dog will learn what behavior really needs to be reinforced and what kind of reinforcers work best and how to use time outs effectively. It took me a while to realize that the dog simply had NO self control skills and only OB skills. The power of timely placed reinforcement would have changed who this dog is. I'm now back in private practice doing what I love helping others with their Four Footed Friends.
My jointly written training manual, the classes I teach, the handlers and dogs I work with are small thanks for the joy I have been given by my dog friends past, present and future. Though I will never be completely worthy of their devotion I can perhaps give them immortality by sharing what they have taught me.
Two of my frequent motto's
"Teaching and Learning through Cooperation and Kindness"
"Every Interaction is a Teaching/Learning Opportunity"
My work is dedicated to all the dogs I have worked with-forever in my heart showing us all – if we can listen – how to live joyfully in the moment.
******************************************************
No introduction about me would be complete without special mention of my friend co author and colleague, Nancy Lyon — co-author of Dee Ganley's dog training manuals, Changing Fear to Joy , Happy Eager Fun Relationship with your Dog, and Teaching Self Control Skills to Shelter Dogs,
A SAR dog handler, Nancy was president and operational leader of the
New England K-9 Search and Rescue Organization
. Their book compiles the teachings of two dog training experts to give you the tools you need to change your aggressive dog's behavior. Visit
http://www.nek9sar.org
for more information about Nancy and NE K-9 Rescue.
New Hampshire Search and Rescue Extraordinary Service Award
An Award to honor individuals who have given Extraordinary Service to Backcountry Search and Rescue in New Hampshire given by the New Hampshire Outdoor Council. recent award given to Nancy for her service http://nhoutdoorcouncil.org/service_award.php 
"I could tell you the story of my life through the dogs I have loved. I could tell you the story of the losses in my life through their deaths. Dogs come into our lives to teach us about love and loyalty. They depart to teach us about loss. We try to replace them, but never quite succeed. A new dog never replaces an old dog; it merely expands the heart. If you have loved many dogs, your heart is very big." – Erica Jong – from an essay entitled "A Woman's Best Friend"